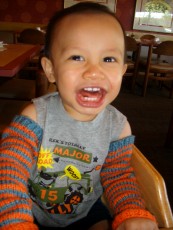 minnesotamary's Profile Details:


About Me
proud mother to baby isaac, love to travel, cook, go running, watch movies and read.
Music
TRAVIS, 80's music, pink floyd, REM, U2, Depeche Mode, Coldplay, basically anything but rap, some country.
Films
penelope, shawshank redemption, indiana jones's series, girly movies
Books
time traveler's wife, kite runner, etc.
Shows
minnesotamary has attended 4 shows
Date
Venue

60 Comments have been added.

Post a Comment?
th74 Sep-11-09 1.26pm


Woo hoo! I'm glad you'll be there. Is Sandy coming, too? And your son is too cute!!

Nikki May-28-09 5.35am


Aw! What a cute little guy! :O)

Turtleneck Apr-24-09 12.28am


Awwww, cute picture! He's growing so fast.

th74 Apr-21-09 3.12pm


I was glad to meet you, too! You were all so nice. Especially since we were the meeting the guys newbies, and you showed us the ropes!

SamuraiSandy Apr-11-09 4.57pm


lol...what do you want me to bring? i know what i can bring back to tx with me, but i don't think a. thong would be on board with that idea :D

th74 Feb-11-09 2.47pm


That is great news! I know 3 others going, too. I think I can safely say I know who will be in the front row! :)

SamuraiSandy Feb-6-09 7.38pm


Pretty soon probably...maybe by next week.

th74 Feb-4-09 6.37pm


Tickets have been purchased! See you in April!

th74 Feb-3-09 4.36pm


Me too! I was just going to ask you. Will Issac be joining us? (Sorry if I spelled his name wrong!)

ricv64 Jan-30-09 4.36pm


i'm wearing the scarf you gave me , it's been freezing in cali , like near 34 degrees . thanks again
Show All Comments