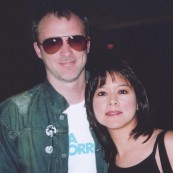 dianacris's Profile Details:


About Me
I like being with my friends, enjoy my family, have good times!
Music
I love British Bands: Travis, Muse, Oasis, Artic Monkeys, Franz Ferdinand, also The Killers and Interpol
Films
Sci Fi films like Terminator 2, Independence Day, The Fifth Element,Matrix 1, Lord of the Rings (all of them), Harry Potter, etc.
Books
Ups! Da Vinci Code..
Tour Archive Photos: 2 Show All


Shows
dianacris has attended 5 shows
Date
Venue

Private Message | Add to Friends
dianacris
Member since: May-25-2007
Last Login: May-22-2014
Gender: Female
Country: MX
Posts: 29
Birthday: Apr-18-1973
Occupation: Graphic Designer
Profile Views: 8355
18 Comments have been added.

Post a Comment?
jesytravis Dec-1-07 2.11am


Hola!!!!! que tal.....gracias por aceptarme, yeah esa pic con Fran es buena, bueno de hecho el todo =) ahi para mas contacto de dejo mi mail ok jesfab_28@hotmail.com cuidate mucho Born to rock!!!!!!

jesusaremus Nov-8-07 4.25am


HOLA!!! muchisisisimas gracias! ññ, ahora solo me falta conocerlos en persona, espero poder conocerlos ññ

Nattasha Nov-5-07 8.55am


Hola! amo mi foto con los chicos! :), aun doy gracias a Dios por haber tenido esa oportunidad... ojala q obtengas la tuya con Doguie! el en un amor...... :). Chaooooo! Disfruta del concierto

misspayne Sep-23-07 2.06am


hey , oye tu si vas a ir a monterrey??? eske se ke no te conosco ni nada pero yo si voy a ir , y no tengo con kien aparte no conosco la ciudad por eso estaria bn ke varios nos fueramos pero x si puedes me avisas , este es mi msn, melora_chevelle@hotmail.com soy karen :)... CHEERS!!!

anace Sep-22-07 4.01am


jaja ahh es 21 de septiembre y acabo de ver tu comment del 4 de agosto.. asi o mas loser con esta cosa? =P a ver cuando te toca leer esto. Yo muy apenas me encuentro en el foro en general.. me siento alienada o_o jaajjaa ok demasiado drama bye!

Nattasha Aug-7-07 10.09pm


Hola! fue un excelente concierto, yo quede plop! cuando vi las canciones que tocaron... 31. Me alegro q lo hayan pasado super!!! y ojala se den una vueltecita por sudamerica.

ozoryo1 Aug-6-07 3.47pm


Son excelentes sin poses los senti muy entregados y humildes ademas de contentisimos. Que bueno que pudimos estar ahi y si, esperaremos con fervor la puesta de boletos del año que viene, saluuuudos. Guau 31 canciones 31 canciones... jajaja --feliz... me acuerdo y estoy feliz...-

alejandrocks Aug-6-07 1.11am


wow!!! es todo lo que se puede decir, no hay palabras, son los mejores!!!! desde que toco jumbo estuvo genial!!!! no puedo esperar a que regresen!!!!

elMora Aug-4-07 5.49pm


Oye! Muchas gracias por la info ;) es invaluable para mí...

elMora Aug-4-07 2.24am


ASI LO FUE... pensé que yo era el único obsesionado pero en realidad jamás había disfrutado tanto un concierto... y si regresan tengo que conseguir una foto con ellos a como de lugar. Excelente acústica, excelente set-list, excelente iluminación, excelente actitud del público... todo fue como un sueño... que mal que no se repiten...
Show All Comments