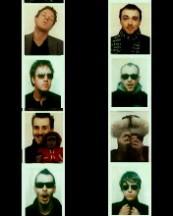 jesytravis's Profile Details:


About Me
concerts, photography, cooking, parties, crazy with a little love
Music
Rock
Films
Terror
Books
a little of everything
Shows
jesytravis has attended 3 shows
Date
Venue

114 Comments have been added.

Post a Comment?
jesytravis Aug-26-09 5.41am


pufff esta muy abandonado por aca =( buuuu por mi!!!

Rammsfer Apr-25-09 4.58pm


Holaa:D Pues bnbn haha:P Y a ti? Haha ya se ya se, pero ya pasó xD Nimodo =/

Selfish-Vii Apr-4-09 7.47pm


i love radiohead i's the first band which made me like "creep" lol

Selfish-Vii Apr-4-09 7.39pm


Hello =D i'm so sorry !! it's cool for radiohead !! lol

genia_gvan Mar-31-09 9.40pm


Hola! uyy pues la verdad fue genial la onda de irlos a ver al hotel y todo... el concierto, con sus inconvenientes y la gente q fue a ver a peter gabriel q fue algo grosear con Travis =( pero aun así fue genial... q mal q no hayas podido ir!!! q tal sigue tu pierna?

bogusblue Mar-31-09 8.59pm


Hola hola! Al final sí los acosaste? No te ví :o(.

Rammsfer Mar-26-09 2.28am


Hola! Si, pero no los veré =( Mi jefe tuvo un compromiso de ultima hora y no me podra llevar (iba a entrar con el). Estoy bn triste

genia_gvan Mar-16-09 10.37am


hola hola! no había contestado los comments q me habías dejado, lo siento! puesss, espero q estés bien, y pues disfruta a radiohead!!

jesytravis Mar-14-09 9.28pm


voy a ver a Radiohead!!!!! weeeeeeeeeeeeeeeeeeee

Selfish-Vii Feb-20-09 12.50pm


hehe !! i'm fine and you ??
Show All Comments