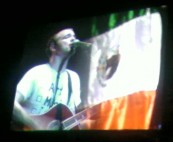 ozoryo1's Profile Details:


About Me
Casado y bien, una hija que es mi angel, mi madre otro angel. Oaxaca me fascina. El Mezcal y el Tequila buenooo, y no me olvido del futbol, goooolazo de Travis en Mexico...
Music
Travis!!!, Radiohead, Cafe Tacuva, Charly Garcia, U2, Austin TV, Cerati, Interpol, Sanz, Unkle, La Barranca, Artic Monkeys...
Films
Vean Pequeña Miss Sunshine, excelente alternativa
Tour Archive Photos: 1 Show All

Shows
ozoryo1 has attended 1 shows
Date
Venue

Email | Private Message | Add to Friends
ozoryo1
Member since: May-30-2007
Last Login: August-28-2007
Gender: Male
Country: MX
Posts: 6
Birthday: Oct-1-1970
Occupation: Ingeniero Civil
Profile Views: 5794
20 Comments have been added.

Post a Comment?
CHILENA2006 May-18-10 4.02pm


Esto se llama reviviendo el board...ja,ja,ja,ja...por si algun dia pasas por aqui...hola! y espero verte pronto...te cuidas!

makito Oct-18-07 11.05pm


hola soy nadia, encontra tu espacio por ahi y te dejo un saludito , si quieres podriamos seguir en contacto , falta poco ya para ver a travis estaran aqui en chile en noviembre , te cuidas y besos

Nattasha Aug-28-07 2.53pm


hola! si, parece que lo de Chile va, escuche en la radio algo pero darán noticias despues, lo malo es q yo no voy a estar :(, vopy a Barcelona pero podre verlos alla!!!!! tengo pensado ir a Madrid, Zaragoza y obviamente Barcelona. Aca en Chile mis hermanas y mi prima los podran ir a ver, estamos super felices!!! no podemos ewsperar por mas info.... Chao!

Nattasha Aug-28-07 2.48pm


hola! si, parece que lo de Chile va, escuche en la radio algo pero darán noticias despues, lo malo

CHILENA2006 Aug-25-07 2.53pm


wow!!!!!parece que siiiiii!!!...uuuyyyyy...me muero!!!...ojala se haga realidad ese sueño. Tu te puedes imaginar lo felices que estariamos los fans chilenos de que vinieran aquí...al final del mundo...

gaby Aug-5-07 5.15am


que buena foto!! que lindo debe haber estado! :-)

TALIA Aug-5-07 12.20am


hey que genial pic

dianacris Aug-4-07 1.06am


Qué show!! A parte se veían tan felíces. Qué emoción me da estar en un concierto en el que tanto los fans como el grupo lo disfrutan a cada momento. Son muy lindos y ojalá si regresen en un año!!

ozoryo1 Aug-3-07 5.40pm


Grabado desde mi cel, es solo por el hecho de compartir, es un archivo mp4. Este es el link: http://www.sendspace.com/file/dmcqnp

audrey Aug-3-07 10.28am


have fun at the show!
Show All Comments