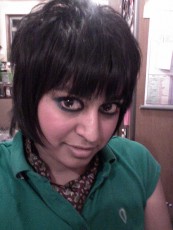 Lemon Grinner's Profile Details:


About Me
I like stuff, like. Innit. Wicked.
Music
Paul Weller, The Jam, Oasis, The La's, Shack, The Stone Roses, Big Hand, John Power, Doves, Graham Coxon, Madness, REM...
Films
Funny films. The Pink Panther films, Hot Fuzz, Shaun of the Dead, Guesthouse Paradiso, Quadrophenia, This Is England, The Three Amigos, Four Weddings and a Funeral
Books
I don't have the patience to be reading books. Especially when I could be in the pub.
Shows
Lemon Grinner has attended 11 shows
Date
Venue

86 Comments have been added.

Post a Comment?
Peewee Feb-26-09 11.12am


ya, still of them :D nearly two months woooohooooo. The cat is very cute and I ain't a cat person! I think they are all evil ;) lol

Peewee Feb-26-09 11.12am


ya, still of them :D nearly two months woooohooooo. The cat is very cute and I ain't a cat person! I think they are all evil ;) lol

Peewee Feb-19-09 10.25am


Awwwwwwwwwwwwwww I love your new profile pic! So cute and love your funky eyes! Sexy Lady! heehee x

Rammsfer Dec-31-08 9.33pm


Happy New Year :)! My bests wishes for you =P

Chiito-chan Dec-24-08 7.55pm


Merry Christmas Grin!

Peewee Nov-20-08 11.34pm


aha your back! ;) How are ya? x

Somewhere Else Sep-20-08 9.21am


Hi there . I'm in the wars at the moment (legal) - literally! ( thanks for asking) 2 Travis gigs to look forward to though .Hope the new job is going well and fitting in with your leasure time :)

Peewee Sep-17-08 10.02pm


LOL don't worry my memory is shit too, I don't even remember haldf of ppls names on here but hey, I'm unique! Work in a library darhling!lol That's brill that you have made a buddy with your fav past-time!!! ;) Happy Fricking Days!!! Ps. read your maily!!! lol

Peewee Sep-17-08 6.47pm


Your not missing much. Some people are being TWATS as usual and lots of weird discussions going on...I'm post more on here coz I piss bored in work! It's dead! How's you place going? Still lurving it? You still manage to get out boozing AND get up for work?!?! lol

Peewee Sep-17-08 4.11pm


I love that pic of you! You are GLOWING!!! So prettyful :)
Show All Comments