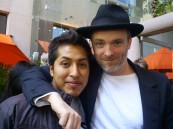 serch's Profile Details:


About Me
I Love The Live, The Design, Art, Photography, Music of course. I play the guitar in a band and I'm learning to play the bass and drums too.
Music
Travis, The Beatles, Led Zeppelin, Artic Monkeys, Snow Patrol, Franz Ferdinand, Kings Of Leon, The Strokes, Jimi Hendrix, The Fratllis, The Rolling Stones, Queen, The Music...
Films
The Cube, The Ice Age, The Shining, The Lord Of The Rings, Gladiator, Finding Nemo.
Books
100 años de soledad de Gabriel García Márquez, El universo en una cáscara de nuez de Stephen Hawking, Cuentos de Horacio Quiróga, El Médico (trilogía) de Noah Gordon y todo sobre Julio Verne
Tour Archive Photos: 6 Show All





Shows
serch has attended 4 shows
Date
Venue

Private Message | Add to Friends
serch
Member since: August-06-2008
Last Login: January-10-2013
Gender: Male
Country: MX
Posts: 17
Birthday: Oct-8-1987
Occupation: Student (Graphic Design), but correctly called Design and Visual Comunication, but is a long name...
Profile Views: 5164
6 Comments have been added.

Post a Comment?
bogusblue Aug-26-09 3.48am


Holassss! Ya ves cómo no cumples con tu promesa de no desaparecer?? :oP Ya en serio, qué bueno leerte por acá de nuevo :o). Pues a mí también me dió envidia de la malísima cuando me enteré que la gira sería sólo en los States :o(. Ni modo, tendremos que esperar a que anuncien alguna fecha (ojalá pronto) para México. La verdad, dudo mucho que la influenza haya tenido que ver con esto. Ok, ahí nos leemos!

damon Aug-12-09 2.20am


si ahora lo recuerdo, no maaa, ese dia en el camino no nos llovio, nos diluvio !!! llegamos super tarde, baaahh, estuvo dos tres la tocada, solo q una ruca jodona queria q acabaramos de tocar mas pronto porq queria escuchar sus cumbias jajaja,, y pos ya tiene rato q no toco con mi banda, yo vivo ahora en vallarta y mi vocal en monterrey... es un caos... pero si hay reunion a los 15 años... pos te invito ! jajaja

damon Jul-15-09 5.43pm


oyeee... y te gusto como tocamos pa'l caso ? jajaja

damon Jul-13-09 6.56pm


ahh si me acuerdo haber visto a la mel-low... pero q chido viejo ! ahh pos simon! ahi andaba... me hicieron creer que era una mega fiesta y salieron con una fiesta de ese wey... en fin.. una mentira mas

bogusblue May-7-09 5.01am


Hola! Bien bien por acá. Tú? Lo bueno es que ya estás de regreso, no te vuelvas a ausentar tanto! ;o) Mmmm, pues nada nuevo en cuanto a Travis, sólo que ya están de vacaciones con su familia. Esperemos que no tarden mucho en regresar!

bogusblue Apr-1-09 12.41am


Hey hey! Gracias por la friend request :o).
Show All Comments