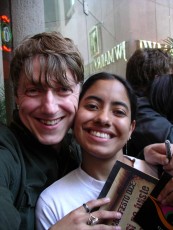 genia_gvan's Profile Details:


About Me
music, designer and photographer, creative, impulsive
Music
travis of course! the beatles, queen, franz ferdinand, snow patrol, kings of leon, the fratellis, Elvis Presley, John Mayer, Foo Fighters, David Bowie, Starsailor,Queens of the Stone Age, Them Crooked Vultures...
Films
The shining, a clockwork orange, the beauty and the beast, Como agua para chocolate, Trainspotting
Books
the green mile, and the shining by stephen king, the medic by Noah Gordon...
Tour Archive Photos: 1 Show All

Shows
genia_gvan has attended 4 shows
Date
Venue

Private Message | Add to Friends
genia_gvan
Member since: May-28-2007
Last Login: September-27-2011
Gender: Female
Country: MX
Posts: 169
Birthday: Dec-16-1987
Occupation: Designer
Profile Views: 7750
34 Comments have been added.

Post a Comment?
jesusaremus Sep-4-09 6.04am


Hola! Oye muchas gracias, que bueno que te gustó el Wallpaper. De hecho ya acabe la carrera XD, estudie en la UVM. Tu que estudias y donde?

mili Jul-28-09 12.31pm


Hello, thanks for the add fellow designer! The serif joke is not mine, I guess I found it in some Typophile joke thread. I'm envious of your picture ;^)

vania Jul-28-09 12.52am


en serio? ah lo siento por responder años despues, pero yo tambien soy de la ENAP!!!!

tonybony Jul-27-09 6.02am


pues alreves que tu jeje :P es q ahora quiero cambiarme a diseño

bogusblue Jul-25-09 7.10am


Holaaaaa, Eugenia! Pues acá todo bien, disfrutando las últimas semanas de vacaciones :o). Y tú? Un abrazo y nos vemos! :o)

galletitabonita Jul-24-09 6.32pm


Hola amiguita! años de no saludarnos verdad??? pues ya me tocaba pasar a dejarte un saludo enorme. Oye que crees? mi compu se formateo y perdi toooooodoooooo, no conozco los respaldos jajaja, crees que un dia me puedas volver a pasar la fotito que me tomaste con Fran? U.U soy una galleta desconsolada. SALU2!

tonybony Jul-21-09 6.35am


hola :) pues todo bien, con la banda entramos a un concurso de bandas pero quedamos en las semifinales :( habian bandas muy buenas, pero bueno chance y ya tenemos manager jeje, como vas con el bajo, la bataca, la chamba y la enap? (o algo más) :D

tonybony May-26-09 3.42am


pues igual la pesadilla del fin de semestre, la semana pasada compré un bajo yamaha en 800 pesos, era una ganga y me dejó en la miseria, que chido lo de la clase de batería

tonybony May-23-09 5.06am


que onda como vas con el bajo?? como has estado?

galletitabonita Apr-4-09 8.14pm


si amiga, aun hay material :) y ademas, estaria padre volver a vernos para recapitular ^^
Show All Comments