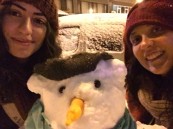 happy_to_hang_around's Profile Details:


About Me
Hi,I'm Elcin from izmir, turkey. When I first heard the song "Closer", my thoughts changed about all the good songs and bands I had known. Travis IS THE BEST. And I realized that I saw the video clip of "Sing" years ago and I didn't even look at the band's name! (well, I was 9 years old then)........ I love watching the clouds and I am crazy about the snow. I like discovering new places. My dream is to travel around the world.
Music
I'm addicted to classical music lately.And classical guitar
Films
Oh I love films...Charles Chaplin,Stanley Kubrick,Kar Wai Wong,Clint Eastwood, Krzysztof Kieslowski,Woody Allen,Federico Fellini,Luis Bunuel,Vittorio De Sica,Quentin Tarantino......
Shows
happy_to_hang_around has attended 4 shows
Date
Venue

Email | Private Message | Add to Friends
happy_to_hang_around
Member since: December-09-2007
Last Login: May-02-2016
Gender: Female
Country: TR
Posts: 219
Birthday: Jan-10-1992
Occupation: computer engineer
Profile Views: 10493
30 Comments have been added.

Post a Comment?
20462046 Nov-18-12 2.50am


3-4 hours a day.oh gosh, it really needs strong determination...ok,i will try julian bream to see what this master got,have a good day elcin!!

20462046 Nov-15-12 4.12pm


sure,you can call me bobo,3Q for your appraisal of my cute brother.you love classical guitar,WOW,i used to try learning by myself but failed,love John Williams!

20462046 Nov-13-12 2.45pm


agree,travis improve our poor E in some way haha. yeah,i noticed that detail,the director says the move track and tick-tok sound from high heel show a woman's mind statement,his new film a grandmaster will be showed next month,looking forward!! by the way,nice to meet you elcin,you are such a cool girl!

20462046 Nov-12-12 5.59am


wow,you see through my nickname. i am a big fan of wang kar wai,i admire his talent at creating impressive atmosphere without a clear plot,by the way,my english is lame too, practice more!!

melissam3173 Oct-26-09 10.47pm


It was awesome and I hope you get to experience it soon!!!

melissam3173 Oct-24-09 7.19am


Yes I feel very lucky to have gotten to experience them. I have been a fan forever and I have only gotten to see them twice. Hopefully I can catch them more next time around. I hope you get to see them soon and thanx for the comment!

leticia Sep-29-09 9.21pm


Cooool!!! I will keep that in mind : P

leticia Sep-22-09 3.47pm


Hey! Thanks for the add : )That pic you posted is amazing! You live there, don't you?

yurieee Jul-2-09 2.01am


Read the story about your 2-year-old cousin....very cute indeed!!! Anyway .. it's interesting you had a chance to watch Paris Texas movie...i'm searching the world for this movie but still bad luck... My name is Yuri by the way... nice to meet !!^__^

joss Jul-1-09 6.15pm


Yes, Travis is the best! and my english is very bad too,:-)
Show All Comments