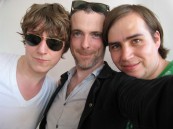 Sopitas's Profile Details:


Recent Messageboard Posts: Show All
Sopitas has not posted any messages
Films
About a Boy
Books
A Long Way Down / Nick Hornby
Shows
Sopitas has attended 3 shows
Date
Venue

7 Comments have been added.

Post a Comment?
galletitabonita Sep-19-08 7.20pm


¬¬

damon Jan-26-08 6.38pm


q pex sups ! nunca me imagine encontrarte por aca ! recuerdo las epocas de radioactivo cuando defendias a travis contra olallo, por que a ese wey no le gustaba la "onda" travis.... ya hace muuuchos años, saludos sups

genia_gvan Jul-30-07 4.51am


Hola Sopitas! mis primitas y mi hermano tienen una pregunta para ti: porque te dices Sopitas? Cuidate, estamos escuchandote! (saludos a Julio)

eduardo2c Jul-17-07 3.53am


Ese mi soups... bien por el comment de agregar tu nombre al concierto.. cada vez falta menos!!!!

genia_gvan Jul-10-07 4.32am


hello sopitas! estaba chido el comentario q alguna vez hiciste acerca de tener a travis en la playa de villa olimpica... estarán x aqui pero no exactamente en villa... espero verte en el show... ")

malcom Jul-10-07 1.35am


ja el soponcio no pense que furas fan del travis ja , te rompiste la pierna como fue heee bueno que mal la neta se supone que hoy sales al aire (radio) ah aaa haber repite despues de mi "sipi sapas sopas ja"

litah Jun-13-07 11.05pm


HEY!!, ARE U THE REAL SOPAS???? JEJE ...
Show All Comments