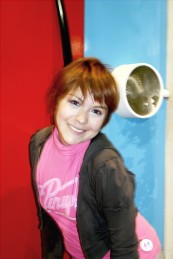 penny's Profile Details:


About Me
solo amo 3 cosas en esta vida!!! TRAVIS, MEW y amelie!!! las demás son solo para crear pequeños placeres de la vida =) soy muy padre (jajajajaja) y me gusta travis!!!
Music
travis mew change of bluet
Films
pfff... amelie, almost famous, city lights, trainpotting, la naranja mecanica, requiem... el cuento de la comadre de bath, paljas, i shot andy warhol, alexandra palace, more than us, anddddd singles!!!
Books
el principito metamorfosis pablo neruda jaime sabines
Tour Archive Photos: 8 Show All





Shows
penny has attended 3 shows
Date
Venue

7 Comments have been added.

Post a Comment?
morrisseysupernova Aug-3-07 7.22am


jaja, sabía que estabas en la lista, solo había una penny, y sí, eras tú jaja no mames que mega concierto ha sido el mejro al que he ido!!!

neverbloodyever Jul-31-07 4.23am


hollaaa chicaa como estas???? q pex??? si vas a ir a ver a travis al aeropuerto???

mrshow13 Jul-25-07 7.13pm


Hello Penny! Pasando a saludar, que estes chido y nos vemos en el concierto!! Que chido que te lata Amelie una de mis favoritats tambien. SAludos

Chuchenko Jun-19-07 6.45am


Qué tal el vídeo de Closer? Muy bueno, no!!! Qué ya vengan, no?!!!! Cuidate!!!

Chuchenko Jun-18-07 11.28pm


Hola!!! Qué cuentas? gracias por agregarme!!!! Espero podamos seguir platicando!!! cuidate!!!

Mimoza Jun-7-07 3.27am


Hola!!!, así es, muy nerviosa y ansiosa por estar en el concierto. Es algo que me emocionó muchísimo cuando me enteré, espero que esta vez, bueno estoy segura, que será igual o mejor que el anterior. Y pues igual, si sabes algo acerca del aeropuerto o si se presentarán esta vez en reactor, pues ahí me avisas sale? (jejeje). Saluditos y ahí nos encontraremos yeah!!

penny May-30-07 7.44pm


hey!!! ps fui el 7 de febrero a ver a travis pro me quede super super mal por q no pude verlos a ellos afuera del aeropuerto!! u_U c que muchas personas fueron a "radioactivo" y al aeropuerto a ver a los belliisimos de travis!! pro ps yo erdi contacto con ellos entonces me gustaria saber si alguien de por aca sabe como hacerle para ir a la conferencia de prensa o algo así para ver a los hermossos estos y poder tmarme una foto con frany!!! plx!!! mi mail es: feeliallthetime@hotmail.com grax!! o mi myspace www.myspace.com/heretheprettyfaces gracias!!!
Show All Comments