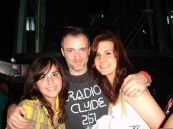 alexandria_z's Profile Details:


Music
TRAVIS. Rufus Wainwright. Coldplay. Muse. U2. John Mayer. Keane. Pilot Speed. Oasis. Toploader. Teitur. Bowie. Fiction Plane. The Police. Radiohead. Snow Patrol. Franz Ferdinand. Spoon. David Grey. The Fratellis. Damien Rice. Sting. The Who. The Beatles. O.A.R. Just Off Turner. Guster. Ben Folds. Kaiser Chiefs. Rooney. Death Cab for Cutie. Newton Faulkner. Jimmy Eat World. Weezer. James Morrison. Barenaked Ladies. Kings of Leon. Bedouin Soundclash.
Films
Many.
Books
Many.
Tour Archive Photos: 6 Show All




Shows
alexandria_z has attended 3 shows
Date
Venue

Private Message | Add to Friends
alexandria_z
Member since: July-05-2007
Last Login: October-10-2010
Gender: Female
Country: CA
Posts: 108
Birthday: May-11-1989
Occupation: Nursing Student
Profile Views: 6994
30 Comments have been added.

Post a Comment?
Nikki Oct-10-09 6.15am


Thanks very much!! See you in 12 days!! :D

Nikki Aug-13-09 7.00am


Oooh! Awesome!

Nikki Aug-3-09 5.29pm


Hey Alexandria! Just saw your name is the Live Dates section for the Ferndale show! Yaaaay! See ya in October!! :)

minnmess Apr-28-09 3.18pm


I got there...5:30ish. I think I was a couple of groups behind you and your friends. Yes, i was eating a sandwich in line, lol. My dinner on the go as I came right from work.

Nikki Apr-27-09 4.15am


No Detroit date. I talked to Fran about it and he said it was just a timing thing. They couldn't get a venue booked in Detroit that worked and fit in with the rest of the tour. However, I know for a fact they love playing here. Fran mentioned to the entire crowd in Cleveland how special the Clutch cargos show was and aknowleged Kaute and I coming down from Detroit while he was on stage! It was a pretty awesome moment! I think the guys are taking a break for a bit and then probably recording new music, so it will be a while before there are back. But next tour, more multiple shows for sure!! :)

Nikki Apr-26-09 4.56pm


Hope you had a great time at the Toronto gig! :) Sounds like it!

minnmess Apr-26-09 2.18am


it was AMAZING!!!! Fran and Andy saw me with FT and laughed. I had a few moments with Andy, teehee. I thought I saw you, but was scared to go ask incase it wasnt you. Were you infront of Dougie?

minnmess Apr-9-09 9.55pm


okay, I will be the short girl holding a small paper version of the band, lol. I'm going to PM you my cell number incase we don't find each other. You shouldn't miss out on meeting FT!

minnmess Apr-9-09 1.36pm


Actually Im seeing them in Chicago first. But yes, 12 days until TO! Are you getting there early? I have to work that day and cant. boo! I will have Flat Travis though! We should meet up so you can have your pic with them.

minnmess Feb-7-09 1.19pm


But of course!!!
Show All Comments