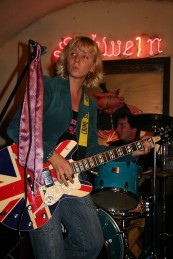 Jay Parker's Profile Details:


About Me
I'm not perfect but you don't mind that, do you? :)))
Music
the Beatles, oldies, Mersey beat, Travis, Fastball, Supergrass, Fool's Garden, Robbie Williams and many more
Films
LOTR, I am Sam, Cramer vs. Cramer, Almost Famous, School of Rock, A Hard Days's Night
Tour Archive Photos: 8 Show All





Shows
Jay Parker has attended 3 shows
Date
Venue

Email | Private Message | Add to Friends
Jay Parker
Member since: April-20-2007
Last Login: December-30-2013
Gender: Female
Country: RU
Posts: 12
Birthday: Mar-17-1978
Occupation: banking business. music. entertaining the baby.
Profile Views: 7331
30 Comments have been added.

Post a Comment?
Rammsfer Nov-15-09 7.03am


Wow. Nice guitar! Oasis fan?

bogusblue Dec-31-08 11.34pm


Happy New Year!!! :o)

bogusblue Dec-24-08 11.26pm


Merry Christmas! :o)

peno Dec-4-08 2.11pm


Oh..I´m fine. Going to the Copenhagen and Oslso gigs this week-end..:-)))))

peno Oct-19-08 11.15pm


A big pleasure...:-)))

Sasha Russia Sep-29-08 8.00am


its а long way dooooooooown ))

peno Sep-7-08 8.39pm


See you in London....:-))))

damon Sep-3-08 7.34pm


nice supernova guitar !!!

killer queen Jul-25-08 8.16pm


and by the way, I studied russian one semester, I think I've probably forgotten everythign, hahaha! well... maybe!

killer queen Jul-25-08 8.14pm


Hey!! how are you?? You're from Russia, WOW! that's one of the countries I've always have wanted to go to. I hope that happens soon... Anyway, I'm mexican so, if you need any information I can help you get, I'm here! Cheers!
Show All Comments