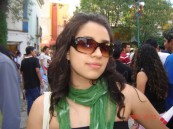 lady_marian's Profile Details:


Recent Messageboard Posts: Show All
lady_marian has not posted any messages
Books
El Conde de Montecristo, Great Expectations y Cronica de una muerte anunciada, for starting
Tour Archive Photos: 1 Show All

Shows
lady_marian has attended 2 shows
Date
Venue

Private Message | Add to Friends
lady_marian
Member since: July-10-2007
Last Login: November-09-2007
Gender: Female
Country: MX
Posts:
Birthday: Sep-23-1984
Profile Views: 3385
Friends: 0
1 Comments have been added.

Post a Comment?
lady_marian Jul-16-07 4.16pm


Hey Travis, i´m counting the days to see you in México and if you let me abuse of your coolness, please sing "last christmas" personally I love this song, but i´m sure that it´ll make happy a lot of people, plus travis is happy cos we´re so happy, isn´t?
Show All Comments