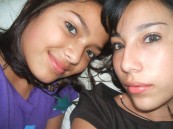 Mirelle's Profile Details:


About Me
I´m a cool girl... i love having fun with my friends.
Music
Coldplay,Travis,Muse,AC/DC,Guns n Roses,Led Zeppelin,The Ramones,Nirvana,Soundgarden,Pearl Jam,The Clash etc etc etc
Films
Shakespeare in love, Requiem for a dream,Dancer in the dark,The holly mountain,Y tu mama tambien,Cold Mountain,The clockwork orange...,The little princess.
Books
El amor en los tiempos del colera.
Shows
Mirelle has attended 3 shows
Date
Venue

13 Comments have been added.

Post a Comment?
bogusblue Dec-31-08 6.32am


Feliz Año Nuevo!!! :o)

bogusblue Dec-24-08 5.34am


Feliz Navidad!!! :o)

bogusblue Oct-26-07 6.48am


Pues todavía no sabemos bien, pero lo más seguro es que vayamos a verlos el 9, no sé si tú quieras ir también ese día, de todas formas iriamos el 10 también. Pero después te digo más, sale? A ver si nos encontramos en el msn.

BettyPekker Sep-22-07 9.17am


Hi newboardie.

bogusblue Sep-21-07 10.14pm


Sí, estará super divertido. Yo tampoco puedo esperar más... pero hay que ser pacientes. Cuidate.

bogusblue Sep-20-07 6.35pm


Ya tengo mi boleto!!!! Aaaaaahhhhh!!!!

Chuchenko Sep-19-07 5.18am


hola, no sé cómo pero de pronto apareciste en el top 4 de amigos, cómo le hiciste?, bueno, en fin, te mando saludos, tú vas a ir al siguiente concierto, vdd?, yo ando bruja!!! así que no sé si ire a este nuevo concierto. Saluditos!!!

galletitabonita Sep-19-07 12.07am


cuenta con ello, te mantendremos informada, yo tambien soy poor, as que ni de chiste iria jajaja SALU2

galletitabonita Sep-19-07 12.06am


cuenta con ello, te mantendremos informada, yo tambien soy poor, as que ni de chiste iria jajaja SALU2

Mitzukuni Sep-18-07 4.31am


juas! no me imagine encontrarte en el monton de fans de aqui xD pero q gusto!! ^^ ire al del df yo creo ^^
Show All Comments