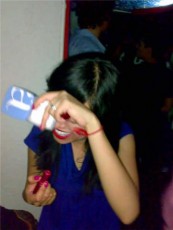 Helena's Profile Details:


About Me
im a good girl & i love definitely my boy mon soleil we are mean to be, also i love good music, my friends i love la France, Russia, art... someday i want to learn russian.. i love razorlight btw i have the white t shirt of johnny borrell and i dont care if u think razorlight sux
Music
Travis, Razorlight, Air,
Films
Amelie, Virgin suicides, Nosferatu, Edward Scissorhands, Imprint, across the universe, The notebook
Books
i really love Russia writters i love Russia!!
Shows

Private Message | Add to Friends
Helena
Member since: April-20-2007
Last Login: December-11-2010
Gender: Female
Country: MX
Posts: 109
Birthday: Mar-28-1984
Occupation: plop
Profile Views: 9306
171 Comments have been added.

Post a Comment?
Sasha Russia Jan-31-10 2.25pm


Love Russia? )) Hey. How are you??

Adriani Jun-14-09 6.10am


preciosa helenita desaparecidaaa, hace tiempo que no acosamos! jajaja apareceraste! jaja

erikaeee May-24-09 8.59pm


Que onda helena que cuentas? hace tiempo que ya no paso to por aqui es un poco atrasado pero como te la pasaste en tu cumple?? sale bye!!1

tonybony May-21-09 5.27am


qué onda como te va? :)

damon May-19-09 3.23pm


ah la verdad si esta re bueno mi trabajo eh! me divertierto y me va bien... ora ademas en los bellos puertos de Vallarta !

damon May-14-09 7.49pm


jajaja, en hotmail, yo soy moderador del messageboard, aqui me la vivo jajaja trabajo en www.psav.com checale jejeje, mal plan q te toco cranki !!! maldita crisis

damon May-14-09 4.22pm


andaba como loco por la chambaa

damon May-13-09 7.18pm


ehhhhh.... es raro hablar del weekend en miercoles, jajaja,,, es q ando medio atareaado... sopassss.. y tu ?

damon May-11-09 4.38pm


ayyy ya lo creo q si, si los braquets en si son como dan pena, ora este aparato... pero bueno, ya te quedaron bonitos ! jejeje

Rammsfer May-9-09 7.12pm


:D!
Show All Comments