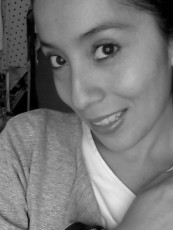 erikaeee's Profile Details:


About Me
Las palabras dicen mucho y se las puede llevar el viento, pero los hechos no!! Disfruto cada momento de mi vida... aņo, mes, semana, dia , hora, minuto, segundo, microsegundo y nanosegundo... Hay que tomar la vida como viene... sin preguntar por que sino para que? Aprender todo lo que puedo como si me mente fuera una esponja...
Films
the notebook, silent hill, and all the movies of scient fiction.
Books
Las hojas que caen, and i like poetry. Uno de mis libros favoritos es farenheit 451, asi como tambien un mundo feliz. Mi poeta favorito es Jaime Sabines.
Shows
erikaeee has attended 1 shows
Date
Venue

Private Message | Add to Friends
erikaeee
Member since: June-29-2008
Last Login: August-28-2012
Gender: Female
Country: #
Posts: 9
Birthday: May-29-1988
Occupation: student of chemistry (Q.F.B.)
Profile Views: 6244
60 Comments have been added.

Post a Comment?
Helena May-25-09 8.32pm


hey amiga pues que te dire de mi cumple la pase bien con mis amigos me hicieron una carnita asada agusto despues en la nite a la plaza a bailar y tomar poquito jiji y me regalaron una tortuga que se me murio ja no dur muchito pobre de mi :s enfin eso fue mi cumple y ahorita pues ahi andamos ja y tu que onda ocmo va todo? cuidate mucho

Helena May-9-09 6.22am


si muchisimo sin pasar a dejar un saludito ja ja como anda todo por alla? ya hay mas vida social?? jaja cuidate mucho disfruta el fin de semana ja

Helena Mar-26-09 3.31am


hay pero se te ve tan bien el cabellito bien lindo me encanta cortito negro verdad precioso

genia_gvan Mar-17-09 3.46am


ah, ok! no ps yo ando en el sexto semestre... q buen plan q tu hermana casi va de salida! cuidate!

Helena Mar-16-09 11.31pm


enserio tu cabelllito tan larguito verdad?? yo quiero cortarmelo como ameli y pintarlo en cafe cefe pero bueno que se le va hacer jaja dejare que me crezca como rapuzel jaja que loco jaja cuidate disfruta tu semana

genia_gvan Mar-16-09 10.27am


hola!! ahh, disculpa si no habia contestado antes, jejeje... si soy de la ENAP (todo un orgullo)... conoces a gente de ahi?

Helena Mar-13-09 4.30am


hey que bueno es saber de ti, me da gusto que sigas en la skul, yo ahorita mm en casita ya no hay trabajito mala onda pero bueno ni modos a seguirle buscando cuidate mucho

Helena Jan-30-09 5.40am


hay ya se algo apuradilla nos cayo auditoria pero todo bien jiji ya menos estres y fin de semana largo wiw!!!!!!! haber que sale! planes??? cuidate mucho!!

RaZzZ Jan-27-09 11.39pm


Hey hola!! No te preocupes, solo que a veces dejo la computadora encendida y me quedo dormido o ando cenando, por eso no te contesto. Pero todo bien, no te preocupes!! n_n

galletitabonita Jan-25-09 9.25pm


hola amiga, como haz estado? yo mas o menos jejeje, sufri de una caida y me duele el brazo... pero si, ahi estare en el concierto, te mando saludotes! ^^
Show All Comments