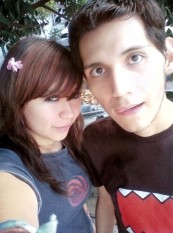 Dudu's Profile Details:


Music
Radiohead, Travis, Muse, Björk, Pink Floyd, Blur, Gorillaz, Tool...etc
Films
It, The Texas Chainsaw Massacre (1974) (2003) , LOTR, The Wall, Indiana Jones, The Shining, Home Alone 1 y 2, El Topo, Santa Sangre, el libro de cabecera, The Secret Garden, Trainspotting, La naranja mecánica (a clockwork orange, Requiem por un sueño, La Cravate, Nosferatu, The Wicker Man, Blue Velvet, Heavy Metal, Psicosis....
Shows
Dudu has attended 3 shows
Date
Venue

Private Message | Add to Friends
Dudu
Member since: June-28-2008
Last Login: February-14-2012
Gender: Male
Country: BR
Posts: 10
Birthday: Apr-7-1988
Occupation: D:
Profile Views: 5002
9 Comments have been added.

Post a Comment?
bogusblue Feb-2-09 1.24am


Hola después de un mes jaja :oP. Bueno, si es eso lo que más te interesa, pues échale muchas ganas al inglés :o). Te mando un PM ;o).

bogusblue Jan-19-09 5.47am


Pues me interesó porque me gusta mucho la literatura y en la prepa estudié algo de italiano y me gustó mucho :o). Pues está bien que vayas en la prepa, así son las cosas (yo también me tardé en salir algunos añitos :oP). Pero vas bien, no? Y qué quieres estudiar después? Te interesa alguna carrera? // Síii, lo que hay que hacer por Travis jaja ;o).

TMK_91 Jan-16-09 6.56am


haaaaaaaaaa holaaaaaaa! sere famosa aqui tambien

bogusblue Jan-16-09 1.20am


No te preocupes! :o) Yo todavía no tengo mi boleto, yo creo que lo compro mañana, o hasta la otra semana... :o) Yo estudio Letras Italianas en la UNAM :o). En qué semestre o año vas?

bogusblue Dec-31-08 11.49pm


Feliz Año Nuevo! Qué la pases genial! Los mejores deseos para el 2009! :o)

bogusblue Dec-30-08 4.26am


Yay! Ya somos amigos :o). Gracias por la friend request! Pues sí, yo tampoco creo que se terminen tan rápido los boletos, yo creo que los compraré en enero. Tú ya tienes boleto?? Yo también quería que vinieran solos :o(, pero tendremos que esperar un poco más (no mucho, espero) para que regresen a dar un concierto sólo ellos. Y qué estudias??

bogusblue Dec-28-08 8.32pm


A mí tampoco me gusta Peter Gabriel, pero quiero escuchar el nuevo disco en vivo, así que me sacrificaré :oP. Pues se supone que sí voy a ir aunque aún no he comprado los boletos xD. Pero no creo que se terminen muy pronto, no? :oS jeje

bogusblue Dec-27-08 4.37am


Pues igual, pasando las fiestas y disfrutando las vacaciones :o) jeje. Así que irás a ver a Travis al Foro Sol?? Saludos! :o)

bogusblue Dec-23-08 4.46am


Hola! Gracias :o). Cómo estás??
Show All Comments