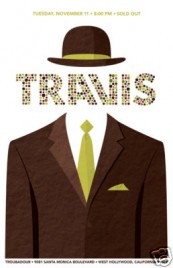 silvella's Profile Details:


Music
Travis, Athlete, Keane, The Calling/Alex Band, Depeche Mode, Queen, The Goo Goo Dolls...
Films
Chocolat, Big Fish, Der Pianist, The Doors, Lord Of The Rings, 300, Inside I'm Dancing, The Fountain, Dear Frankie, Finding Neverland, Cold Mountain...
Books
Diana Gabaldon, Nicholas Sparks, Nicholas Evans, Rebecca Gablé...
Shows
silvella has attended 2 shows
Date
Venue

24 Comments have been added.

Post a Comment?
Lena Jan-4-10 12.43pm


Hi, das sind ja Neuigkeiten: dann wird unser nächster gig wohl ein Fran-Solo-Auftritt?! Ich hoffe du bist dabei?! Bin ja schon ziemlich aufgeregt und kanns kaum abwarten die neuen songs zu hören... LG, Lena

jesusaremus Jul-14-09 5.29am


hey hello! haha don't worry, keep that pic, i used as a joke, 'cause here everyone was wearing facemask because of the swine floo. you know i had to protect my pic from that haha. Now i'm gonna change it tomorrow :)

BenFilbert Mar-5-09 6.33pm


Hey, i'm going to send you a PM. I'll do my best to help but i can only really say what worked for me because i'm really not an expert. :)

mcveighp Feb-20-09 4.08pm


How are you doing??? :) I've a big gig tonight in a festival in belfast i'm excited but i'm sick lol so nervs are high!!!!!!!! just thought i'd call in to say hey! Eskimos Fall / Pete

RaZzZ Jan-1-09 2.53pm


Happy New year!

RaZzZ Dec-25-08 2.42am


Silvella, have a nice holidays. Merry X mas!!!

mcveighp Nov-28-08 12.54pm


Hey cheers for the response to my post! how are you!!? loving the image with the quote! Pete

RaZzZ Nov-27-08 8.51pm


Silvella!!!!!!!! Ich bin sehr glücklich!!! Travis in Deutschland!!

RaZzZ Nov-27-08 5.19am


Sure, i´ve uploaded the pic

RaZzZ Nov-25-08 8.56am


Im in Germany, im definitely living in Germany!!!
Show All Comments