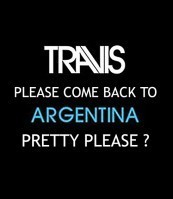 barby's Profile Details:


About Me
Music
OK,I'm a Travis addict.
Films
Goog bye, Lenin / El joven manos de tijeras/ Cadena de favores/ Gladiador/ Shrek I y II / Un lugar llamado Noting Hill/ Kil BILL/ Iluminados por el fuego/ El pianista / Harry Potter : La cámara secreta; El prisionero de Azkaban; El cáliz de fuego; La orden del fénix/ Los Simpsons / Milagros Inesperados/ Una mente brillante/ El jinete sin cabeza/Corazón valiente(L)/La amistad/ Corazón de caballero/La era del hielo/ Mi nombre es Sam/ This isnt'n a film. Is our video for Song to self from argentinians boardies to TRAVIS :)
Books
Harry Potter : I, II, III, IV, V, VI, VI y VII. Agatha Cristie : Mr. Brown /
Shows
barby has attended 1 shows
Date
Venue

Private Message | Add to Friends
barby
Member since: May-30-2007
Last Login: August-29-2013
Gender: Female
Country: AR
Posts: 1589
Birthday: Jul-15-1988
Occupation: I'm a student of History
Profile Views: 13471
164 Comments have been added.

Post a Comment?
I Came in Through the Bathroom Window Jun-15-11 8.00pm


Jajaja, cómo qué es! Soy Ursula, la bruja del mar! (La de La Sirenita!) :oP

bogusblue Dec-24-09 11.16pm


¡Feliz navidad, Bar! :o)

ricv64 Nov-2-09 3.21am


sent it a month ago , just told juli keep quiet until the band told me it's ok . they did too , they were happy

ricv64 Oct-18-09 2.20pm


it's my profile pic . i did a poster for the fran and andy shw in SF

ricv64 Sep-19-09 4.18am


big top secret project coming up , knock on wood

ricv64 Sep-16-09 3.58am


i'm all confused who's who in argentina with the pic

bogusblue Mar-31-09 10.29pm


Gracias, Bar! Sí, ese Neil se ve súper bien y en persona mucho mejor jajaja.

bogusblue Mar-7-09 3.23am


Jajaja, muchas gracias, Bar!! :o)

bogusblue Jan-26-09 5.50am


Oh! De nada, Bar! Me caen re bien todos ustedes y es un placer apoyarlos ;o). Ahora respondo el PM jeje ;oP.

bogusblue Jan-9-09 5.48am


Foto de fondo y foto de avatar, geniales! Cuando entré acá pensé que entraba a *música de suspenso* La Dimensión Travis... Se ve re genial así ;o).
Show All Comments