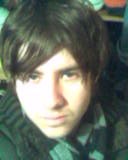 alexington's Profile Details:


About Me
me gustan los comics, la wena musica, las pizzas,las peliculas (todo el mundillo audiovisual) mi novia (q mamon!), y escribir...
Music
travis-muse-the beatles-the strokes-the white stripes, etc...
Films
demasiadas...from hitchcok to alex de la iglesia pasando por burton, hasta llegar a tarantino...
Books
the lord of the rings, las peliculas de mi vida de fuguet....
Shows
alexington has attended 1 shows
Date
Venue

Private Message | Add to Friends
alexington
Member since: October-08-2007
Last Login: January-13-2008
Gender: Male
Country: CL
Posts: 7
Birthday: May-21-1987
Occupation: estudiante, trabajador, freak de corazon...
Profile Views: 2992
Friends: 0
11 Comments have been added.

Post a Comment?
el_gemelito Oct-21-07 12.59am


a picota!!! jajajajaja XD vale viejo agregado... se le ve ...

pitapixcat Oct-20-07 5.01pm


Hola!. Gracias por la bienvenida =) Obvio que voy... Se está haciendo eterno este mes. Saludos!

el_gemelito Oct-20-07 4.32am


y viejo? vay al concierto o no??? deje post loko en el "santiago arena show 04/11/07" lealo viejo!

yuzuki Oct-19-07 10.53pm


Hola niño... pasaba a saludarte! Te agregaré a mis friend :P Falta poquitoooo, muy poquitooooooooooooo xD Chau

el_gemelito Oct-19-07 2.17am


Saluos viejo welcome al board harta gente chilena ahh?? jj xD

makito Oct-18-07 10.51pm


hola de nuevo , puxa nadie me quiere acompañar al recital todos watiaron en fin , que wena que respondiste pa que sigamos en contacto , mi msn es makitogea@hotmail.com, tamos hablando entonces , besotes

Natasa Oct-17-07 2.42pm


hi!no prob! ;) how are you?

makito Oct-16-07 9.15pm


hola soy nadia , tbn estoy verde por que llegue el 3 de noviembre , ojala estemos en contacto , saludos

Natasa Oct-13-07 11.57am


hello and thanks! :) greetings from greece!

CHILENA2006 Oct-13-07 12.26am


Hola compatriota bienvenido al mundo de Travis....supongo que vas al concierto????, mira que ya somos varias las que estamos anotadas hace un buen rato en el magno evento...je,je,je....gracias por tu post y es bueno saber que hay un chileno más aquí.
Show All Comments