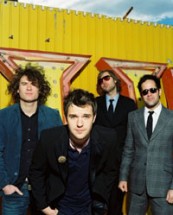 aRnEz_fand's Profile Details:


About Me
I'm so cute jejeje yeah
Music
Travis and Travis The Killers,Blur,Oasis, The Offsprings,Dido,John Mayer,Robbie Williams
Books
Laberinto De La Soledad (Octavio Paz)
Shows
aRnEz_fand has attended 2 shows
Date
Venue

Private Message | Add to Friends
aRnEz_fand
Member since: June-09-2007
Last Login: February-29-2008
Gender: Female
Country: MX
Posts: 32
Birthday: Aug-20-1987
Web: www.myspace.com/frandya
Occupation: Study all the time and sometimes play guitar
Profile Views: 4256
Friends: 2
2 Comments have been added.

Post a Comment?
Chuchenko Jul-17-07 10.06pm


hola!!! gracias por dejarme agregarte!!! Esperoi saber de tí pronto, siento no escribir antes mi compu está muerta así que no puedeo revisar la pagina con periodicidad, pero hago mi mejor esfuerzo. Cuidate!!!

lou_wilde Jul-16-07 7.12pm


hola chica gracia spor el add! ;-) saludos y nos vemos ene l travis concert!!! el evento del año jeje!!!!!! ya no puedo esperar!
Show All Comments