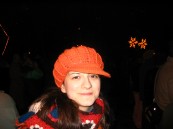 sonja's Profile Details:


Music
travis, radiohead, kt tunstall, amy macdonald, the killers, bebe, coldplay, r.e.m., mercury rev, the cardigans, the beatles, kate nash, norah jones, the arcade fire, athlete, feist, fiona apple, katie melua, the magic numbers..
Films
big fish, garden state, the notebook, man on the moon, eternal sunshine of the spotless mind, pride and prejudice, the prestige, as good as it gets, proof, love actually, the truman show, volver, frida..
Books
fairytales, bella, one hundred years of solitude, sofia's world, the orange girl..
Shows

Email | Private Message | Add to Friends
sonja
Member since: July-08-2007
Last Login: July-08-2010
Gender: Female
Country: CS
Posts: 153
Birthday: Mar-4-1987
Occupation: student-spanish language and literature
Profile Views: 10610
164 Comments have been added.

Post a Comment?
bogusblue Apr-9-09 4.43am


Sip. Respondido! ;o)

bogusblue Mar-8-09 5.12am


:o). Bueno, para mí era importante felicitarte... pero, ya pasó y nada puedo hacer más que felicitarte de nuevo :oP jaja. Me alegro de que lo hayas pasado muy bien :o). Y bueno, un poco de tarta/torta/pastel y sangría no hace daño, mucho menos si es para celebrar ;o). Un besote!

bogusblue Mar-7-09 3.16am


Ay Sonja, soy una mala, mala amiga!!! No pude felicitarte por tu cumple antes *se golpea un millón de veces y llora*. Perdón, perdón, perdón, perdón, perdón, perdón!!! Tenía planeado felicitarte a tiempo, pero he tenido tantas cosas en la cabeza que no pude hacerlo, de verdad espero que me perdones :'o(. Bueno, ahora te lo digo: FELIZ CUMPLEAÑOS!!! Espero que lo hayas pasado genial! Cuéntame cómo lo pasaste??? Un beso y un abrazo!!!

bogusblue Feb-28-09 8.33am


Soñica, muchas gracias!!! Espero poder mandarte algunas fotos pronto :o). Un besote!

Ladybug Feb-7-09 9.57pm


wish you could be there tomorrow! i'll be thinking of you, girl. greetings from salzburg!

bogusblue Feb-2-09 1.27am


Ok, no te preocupes :o). Ay perdón! No te he aceptado porque hace mucho tiempo que no entro a Facebook, en cuanto lo haga te agrego :o).

bogusblue Jan-29-09 2.03am


No, no me llegó tu PM :o(. Quién sabe qué es lo que pasa :o(.

bogusblue Jan-26-09 5.10am


Soy una amiga terrible, Sonja!!!! No te he escrito NADA! Está bien si me odias... pero no mucho, por favor!!! :oS. Mucha suerte en tus exámenes!!! Yo regreso a la facu el 3 de febrero, te juro que antes de eso te escribo un mail!! Ahora por mala amiga te mando un PM ya! Ok? ;o)

bogusblue Jan-16-09 1.05am


Me alegro de que la hayas pasado tan bien :o). Cómo va todo en la facu??

bogusblue Jan-8-09 6.40am


Cómo la pasaste?? ;o) Beso!
Show All Comments