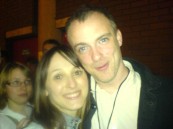 fyonahfire's Profile Details:


About Me
i will keep it short and simple. i luv fashion and creating my own sense of style. travelling is my favorite and it makes me happy. i also luv visiting new places and experiencing new cultures. i also luv the rain.
Music
Travis is my absolute favorite. But I love a little bit of everything really.
Shows
fyonahfire has attended 3 shows
Date
Venue

Private Message | Add to Friends
fyonahfire
Member since: May-31-2007
Last Login: March-08-2009
Gender: Female
Country: UK
Posts: 2
Birthday: Dec-24-1982
Occupation: Senior Buyers Clerk
Profile Views: 2959
Friends: 2
Show All Comments