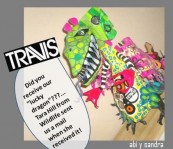 a8i's Profile Details:


Recent Messageboard Posts: Show All
a8i has not posted any messages

Private Message | Add to Friends
a8i
Member since: April-08-2009
Last Login: April-08-2009
Gender: Female
Country: MX
Posts:
Birthday: Aug-15-1982
Occupation: industrial designer
Profile Views: 2107
Friends: 0
1 Comments have been added.

Post a Comment?
a8i Apr-8-09 5.28pm


TRAVIS!!!: have u receive a "lucky dragon" that we sent you??? its a colorful handcraft from Mexico!!!... hope u have it! ;) cheers!!!
Show All Comments