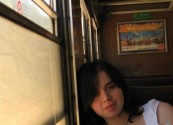 Joana's Profile Details:


About Me
Hmmm
Music
Travis, Coldplay, Snow Patrol, Franz Ferdinand, The Arcade Fire, Keane, The Killers, The Cure...
Shows
Joana has attended 1 shows
Date
Venue

Private Message | Add to Friends
Joana
Member since: April-20-2007
Last Login: June-23-2012
Gender: Female
Country: PT
Posts: 206
Occupation: student of Chemistry!!
Profile Views: 4195
2 Comments have been added.

Post a Comment?
megg_inc Dec-24-07 7.56pm


Merry Christmas!

Marrilia Jun-22-07 12.29pm


Hello dear portuguese! yes, indeed travis must come to our ountry. It would be so great.
Show All Comments