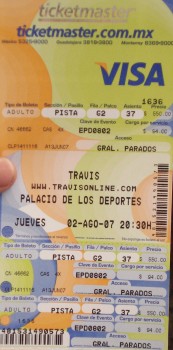 daisyd's Profile Details:


Music
Syd Barrett, The Velvet undergroud, The Flaming lips, David Bowie, The Beatles, The Beach Boys, led zeppelin
Shows
daisyd has attended 2 shows
Date
Venue

Private Message | Add to Friends
daisyd
Member since: May-30-2007
Last Login: January-07-2012
Gender: Female
Country: MX
Posts: 14
Birthday: Mar-27-1987
Occupation: Medicine Student
Profile Views: 6003
10 Comments have been added.

Post a Comment?
damon Oct-29-07 9.46pm


q ondas ? te vamos a ver de nuevo por aca ??? saludos !! si vienes les puedo dar hospedaje en mi casa hasta digamos para 3 personas, un saludin !!

dianacris Aug-4-07 1.10am


Hola! Qué concierto!! No tengo palabras para describir lo que siento, apenas lo estoy digiriendo!Espero lo hayas disfrutado. Yo me lancé al hotel y vimos a Fran y a Dougie, son lindísimos. Ojalá regresen pronto!! Saludos!!

kornflakes21 Aug-1-07 4.32pm


Hey Daisy, como estas oye haber si vamos juntos al concierto no? a que hora vas a estar en el palacio? Saludos

Chuchenko Jul-25-07 6.23am


Saludos!!! nos vemos en el concierto, espero saber d eti escribeme. Saludos!!!

TALIA Jul-15-07 4.01am


epa! yo tengo un ticket igualito jeje:) saludos

BlueAngelBlues Jul-4-07 6.24am


Hi Daisyd... Wow!!!... Vas a ir a ver a TRAVIS!!!!!Prometeme que luego del recital me vas a contar como la pasaste, si?... Muero de ganas de verlos en Buenos Aires, espero que Fran y la banda se den una vuelta por aqui... Kisses Claudia desde Argentina

alyrtle Jun-26-07 1.37am


what a pretty ticket

dianacris Jun-13-07 6.16pm


Listo!! Boletos en mano!! Nos vemos en el concierto!!

dianacris Jun-13-07 3.08pm


Por fin llegó el día!! En dos horas esos boletos serán nuestros!!!

daisyd May-30-07 1.56am


I am a student of medicine, every morning when I go out of house about my new day, put some song of you and say to myself " this way as it is listened, this way I want to be today ", thank you for helping myself to being better every day, they do me mas capablly of loving. God bless you neil dougie fran andy and also to the people that you love.
Show All Comments